In the late 1950s when I was still a "rag" merchant at the family Meier & Frank store in Salem, then-Governor Mark Hatfield asked me if there was something I'd like in return for chairing his winning campaign.  Thinking of my penchant for chocolate, I said I'd like to judge chocolate cakes at the Oregon State Fair.  True to his word after his inauguration in 1959, the governor appointed me as the sole judge of the Gerry Frank Chocolate Layer Cake Contest at the Oregon State Fair over which I've presided ever since.  (Mark Hatfield's only political "payoff" in his long and esteemed career.)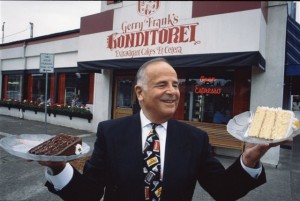 Lo this half-century-plus of judging over 2,000 cakes and taking two bites of each entry (cake and frosting), I hate to think of how much chocolate has passed between my lips!  (I like telling the story of surviving this ordeal at the annual affair:  The secret is making a "Pepto Bismol sandwich;" i.e., I take a good Pepto Bismol swig before the judging begins, proceed with the tasting, and follow the contest with another downing of the stomach soother.)
My friend, Barney Rogers, and I had discussed "doing something together" in terms of business.  The activating ingredient of just what that would be pivoted on the cake contest, taking advantage of my known love of chocolate and sweet tooth all year long!  Our business partnership from 1982 to 2012 flourished (with a lot of hard work).  In 2012, Barney became Partner Emeritus.
Gerry Frank's Konditorei strives to continue in its niche as a well-known gourmet cake shop; each cake is critically taste tasted and attention to detail is our motto.  Over the years, the restaurant side of the business, on top of the delicious desserts that bring people in again and again, has grown to include breakfast, lunch and dinner menus with early-to-late open hours seven days a week.
Our 42-seat café has, indeed, seated thousands and thousands of hungry diners and satisfied (at least temporarily) many a sweet tooth.  We are proud of our enjoyable menu and the array of mouthwatering cakes, bars, and cookies that deck our shelves.  Manager Linae Sielicky and her wonderful young staff want to meet you.  We look forward to seeing you there!