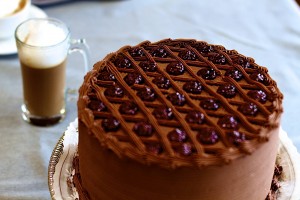 The Konditorei is a truly fine cake shop in the Viennese style at prices that will tempt all cake lovers. Every recipe has been personally tasted by a panel of tasting experts. The final result is an array of fine cakes never before seen in the Northwest. They are yours to see, to taste and to buy at The Konditorei.
Where you can have your cake and eat here too!
---
Cake Assortment
| | |
| --- | --- |
| Slice | $6.75 |
| 6″ cake | $29.00 |
| 1/2 of 9″ | $29.00 |
| 9″ cake | $49.00 |
| Sheet Cake | $70 – $160 |
* Denotes that we regularly carry in small 6 inch sizes.
Afterschool
Our rich yellow butter cake with delicious milk chocolate frosting.
*Barney's Blackout
A rich, five-layer, dark chocolate cake with a fudgy dark chocolate frosting.
Carrot Cake
A classic carrot cake with coconut and a pineapple cream cheese frosting.
*Champagne Cake
A fine white cake with a delicious champagne custard filling and champagne buttercream frosting.
*Champagne Raspberry
A fine white cake with champagne buttercream frosting and raspberry filling.
Chocolate Cream Cheese
A moist, rich, dark chocolate cake, with cream cheese frosting.
*Chocolate Fudge Truffle
Chocolate cake with whipped cocoa crème frosting and truffle fudge between each layer.
Chocolate Peanut Butter
Chocolate cake with peanut buttercream filling, and frosted in milk chocolate buttercream and coated with chopped peanuts.
Chocolate Raspberry
Dark Chocolate cake with milk chocolate buttercream frosting, and delicious raspberry filling.
Coconut Crème
Three layers of fluffy coconut cake frosted with whipped coconut crème and coated with fresh coconut.
Dark Chocolate Ganache
A moist dark chocolate cake with a bittersweet ganache filling and frosting.
Also available with German Chocolate filling.
German Chocolate
Light chocolate cake topped with a traditional pecan-coconut glaze and German Chocolate buttercream frosting with a walnut coating.
*Gerry's Chocolate
A classic five-layer milk chocolate cake frosted with milk chocolate buttercream.
Italian Crème
A buttermilk cake with pecans, walnuts, coconut and a rich maple cream cheese frosting.\
*Lemon Creme
A moist lemon butter cake with a lemon and pastry crème filling and lemon buttercream frosting.
Mounds
Dark chocolate cake filled with creamed coconut, covered with dark chocolate and almonds.
*Old Fashion Chocolate
Old fashioned Devil's Food cake with delicious vanilla buttercream frosting.
Poppyseed Cake
A light and moist lemon-poppyseed cake filled with lemon custard and frosted in a vanilla buttercream cheese frosting.
Raspberry Lemonade
A yummy moist lemon cake with raspberry filling, frosted with raspberry buttercream.
Red Velvet
A classic red velvet cake rich in cocoa, frosted with cream cheese frosting.
Strawberry Cake
Strawberry flavored white cake with layers of sliced strawberries and whipped cream.
Tuxedo Dark Chocolate
A dark chocolate cake filled with fluffy marshmallow filling, covered with a layer of dark chocolate.
The Ultimate
A yellow sponge cake filled with ganache and mocha soufflé, frosted with a coffee-flavored buttercream