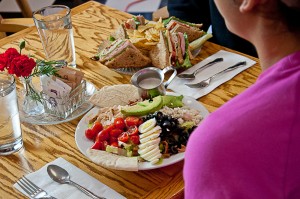 We offer much more than dessert and are pleased to serve breakfast, lunch and dinner.  Join your friends for a tasty quiche, one of our delicious salads, soup, or a sandwich along with a great selection from the wine cellar.  And when you're done you don't need to go anywhere else for the most luxurious desserts in Salem.
Where you can have your cake and eat here too!
BREAKFAST
*served until 11:00am
---
Barney's Breakfast Sandwich
Made with a fluffy croissant with your choice of hot ham, or bacon, topped with melted cheddar, swiss or provolone cheese $7.75 with egg 8.25
Quiche Special of the Day
Crab & Asparagus presented with fruit 8.95
Hot Oatmeal
Served with dried cranberries, brown sugar, and cream 4.95
Breakfast Parfait
Yummy layers of granola and strawberry yogurt 5.95
Granola Cereal
Served with dried cranberries 4.95
Fruit Plate
Nice plate of seasonal fresh fruit
Small 3.95 Large 4.95
SIDES
Bacon (3 slices) 3.95 (4 slices) 4.95
Toast
Two pieces of wheat or sourdough served with ham 1.95
Pasteries (we offer a variety of pastries to choose from including Cinnamon Rolls, Eclairs and Scones. Prices vary.)
Expresso Bar
Enjoy an expresso with your meal or order one to go. Featuring Illy coffee.
LUNCH & DINNER
APPETIZERS
To-Go Lunches are available for individuals or for company lunches. Call (503)585-7070 to place your order.
---
FRUIT & CHEESE PLATE
Assorted cheese, crackers, and seasonal fruit 8.95
HUMMUS PLATTER
Flatbread, tomatoes, cucumbers, kalamata olives, pepperoncinis and feta cheese 8.95
TURKEY SALAD SPREAD
Our homemade turkey salad served with fresh seasonal fruit and crackers 7.95
SALADS
---
FAMOUS MEIER & FRANK COBB SALAD
Fresh romaine topped with avocado, tomatoes, black olives, crumbled bleu cheese, bacon, chicken breast and sliced egg with your favorite dressing 9.75
KEARNEY STREET SALAD
Mixed greens, roasted hazelnuts, dried cranberries, red onion, and crumbled bleu cheese, tossed in our house-made raspberry vinaigrette. Garnished with shredded gouda cheese 8.75 (Add Chicken 9.75)
CLASSIC CHICKEN CAESAR SALAD
A classic favorite with crisp romaine lettuce, shredded parmesan, and homemade croutons tossed with creamy Caesar dressing 8.25
CURRY CHICKEN SALAD
Chopped chicken breast, dried cranberries, green onion, celery, and toasted almonds tossed with Curry dressing. Presented with fresh seasonal fruit and crackers 8.95
SPINACH SALAD
Fresh spinach, sunflower seeds, and bacon tossed in our Curry vinaigrette, topped with shredded Swiss and egg. Served with toasted flat bread 8.65
CHICKEN PESTO PASTA SALAD
Tri-colored pasta noodles, chopped chicken breast, artichoke hearts, red onion and shredded parmesan, tossed in creamy pesto and topped with fresh tomatoes. Served with toasted flat bread 9.25
LETTUCE WEDGE
Iceberg lettuce smothered with bleu cheese dressing, topping with diced cucumbers, tomatoes, and crumbled bleu cheese 6.65
KONDITOREI HOUSE SALAD
Crisp romaine, tomato, cucumber, red onion, parmesan cheese and croutons with your choice of dressing 4.95
SANDWICHES
Served with Kettle Chips. Substitute fresh fruit or a side house salad 1.95
---
CLASSIC CLUBHOUSE
Turkey, bacon, ham, lettuce tomato, and Swiss cheese on wheat bread with mayo 9.15
ALBACORE TUNA
Served with lettuce and tomato on wheat bread 7.95
TURKEY SALAD ON CROISSANT
Our homemade salad includes turkey, green onion, celery, and mayonnaise, with leafy romaine 7.75
TURKEY OR HAM ON WHEAT
Your choice of turkey or ham, with provolone, lettuce, tomato, honey mustard, and mayo on wheat bread 7.95
FRENCH DIP
Roast beef, Swiss cheese, and au jus for your dipping enjoyment 9.45
HOT HAM & CHEESE
Ham and gooey Swiss cheese with mayo on a toasted homemade croissant 7.75
BLT
Bacon, lettuce, tomato on sourdough toast with our zesty homemade spread 7.75
Add avocado 8.45
VEGETARIAN
Avocado, sliced cucumber, tomato, lettuce, provolone and cream cheese on wheat bread 7.45
KONDITOREI RIBBON LOAF
Turkey salad, egg salad and ham salad layered on wheat and white bread, wrapped in a cream cheese spread 8.50
CHICKEN PESTO PANINI
Grilled chicken breast, pesto, and gooey provolone 8.25
GRILLED TRIPLE CHEESE
A three cheese blend of cheddar jack, gouda and parmesan with fresh basil melted to perfection 6.95
TUNA MELT
Our Albacore tuna salad with melted Tillamook Cheddar cheese 8.65
HOT REUBEN
Pastrami, with swiss, sauerkraut and 1000 Island grilled on rye 8.75
TURKEY BACON RANCH PANINI
Fresh-sliced turkey, crisp bacon and melted Swiss with creamy ranch 8.75
GERRY'S FRANK – OREGON'S BEST 
An Oregon Grassfed all beef frank, served on a pub bun 4.95
SOUP OF THE DAY
Cup 3.95
Bowl 4.95
Add a warm whole wheat roll 1.00
Served in a toasted sourdough bread bowl 7.65
QUICHE OF THE DAY
Salem's best quiche served with fresh seasonal fruit 8.95
MAC & CHEESE
Our homemade specialty served with fresh seasonal fruit 7.45 with bacon 1.00
MEAT LASAGNE
Served with sourdough toast 7.95
KIDS MENU
Macaroni & Cheese
Gerry's Frank
Grilled Cheese
or Peanut Butter & Jelly
Served with a side or kettle chips and apple juice or milk 5.25
KONDITOREI LUNCH SPECIAL
Hot Ham & Cheese
Turkey Salad on croissant
Ribbonloaf
Turkey or Ham on wheat
Albacore Tuna
Served with a cup of soup and your choice of dessert 16.75
1/2 LUNCH SPECIAL
Your choice of a half sandwich:
Albacore Tuna
Turkey Salad on wheat/sourdough
Vegetarian
Turkey or Ham on wheat
Grilled Triple Cheese
Served with a Konditorei house salad or a cup of your favorite soup 8.25