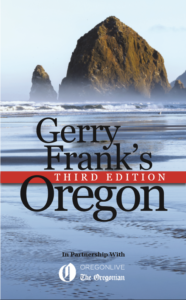 THIRD EDITION NOW AVAILABLE
By the numbers:
474 pages
Nearly 800 full write-ups covering over 165 Oregon towns (rural and urban)
Over 150 lodging venues (family-friendly, rustic lodges, RV resorts, treehouses, upscale urban hotels) in every price point
Over 400 dining choices for every taste (bakeries, barbecue, burgers, candy stores, pub food, seafood, world-class cuisine)
Nearly 120 shops and services (art, fashion, home decor, unique and eclectic, service stations)
Nearly 100 activities (biking, fishing, hiking, jet boat excursions, museums, of interest to kids, tours, wineries)
Gerry's Exclusive List of his favorite places to eat and stay in Oregon; 40 categories in all
Hundreds of interesting "boxed" information (best hikes, covered bridges, ghost towns, ice rinks in Oregon, kids' activities, Meier & Frank Co. memories, nature areas and parks, new openings, Oregon history, state fast facts, travel help)
Photographs from Gerry's personal collection
Plus much more!
From this book, you will gain insight into current places to see and things to do along with learning a bit of Oregon history and you may exclaim, "I never knew that!"
Order Gerry Frank's Oregon Guidebook Here
Web Price: $16.95 (Retail $19.95) Or Buy it Here at the Konditorei!
---
NEW YORK LIVES BY THIS BOOK!
ALL NEW 2016-2017 EDITION!
THERE IS SIMPLY NO OTHER COMPLETE NEW YORK GUIDEBOOK THAT CAN COMPARE!

In the all new 2016-2017 edition you'll find:
An "Exclusive list" of hundreds of places to go for specific ideas in a wide-ranging spectrum of Manhattan's eateries.
A "Don't Bother" list of restaurants.
Museums, specialized tours, attractions, food shops, services.
Where to go for photo ops, great views, tickets, where to play, where to go with kids, New York's best stores, and much more.
Order Gerry's Book Here
$16.95 Or Buy it here at the Konditorei!
---
Buy a handmade greeting card for only $3.00!
Kris Lockard, a local photographer since 1997, takes all of the photographs for the cards. Her pictures includes animals, flowers, and nature. She then donates all of the proceeds to the local Animal Humane Society. Her cards are sold here at the Konditorei as well as other locations.