Limited Menu as of May 2021: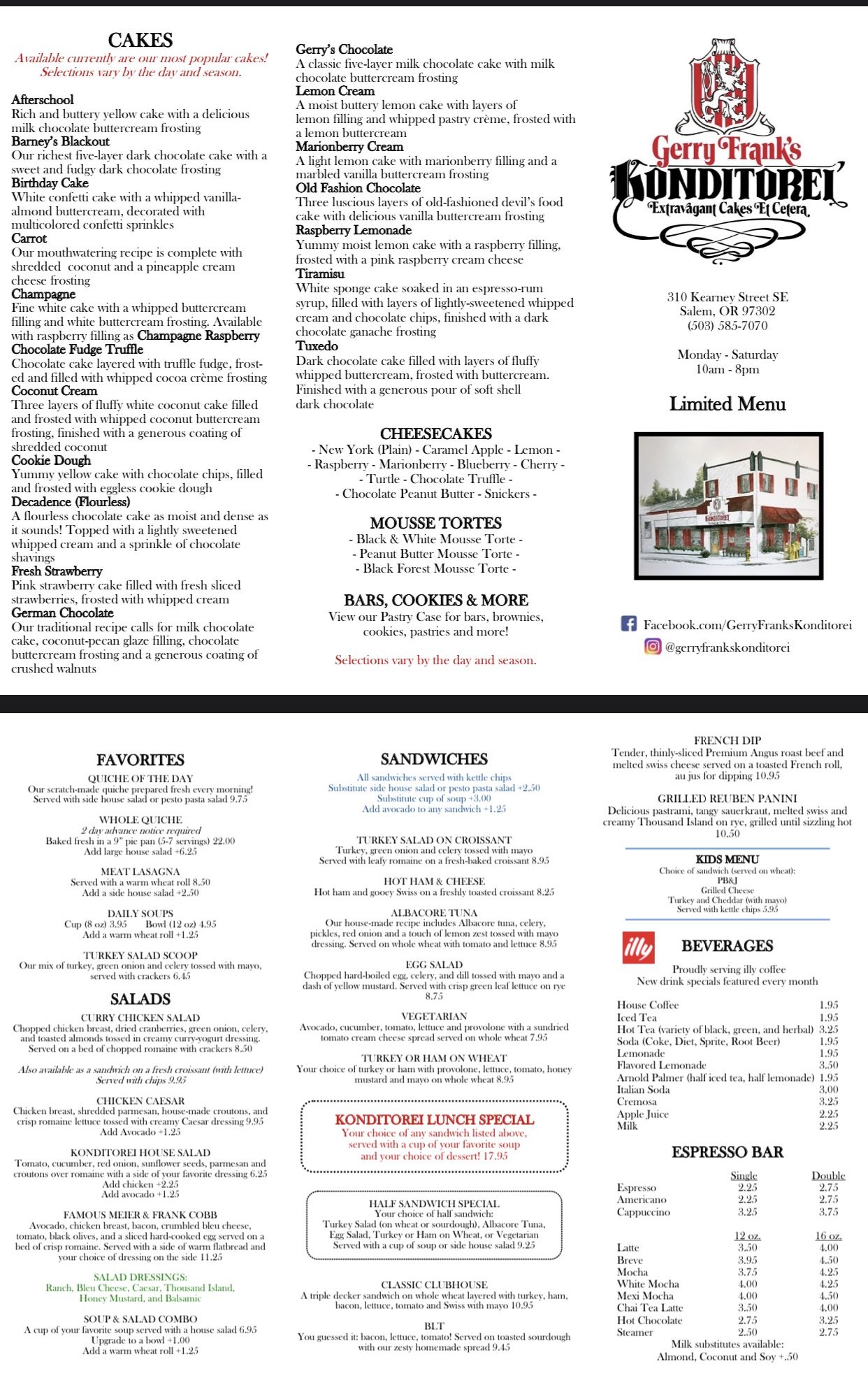 *Click on the link below for an easier to read menu.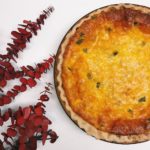 We offer much more than dessert and are pleased to serve breakfast, lunch and dinner. Join your friends for a tasty quiche, one of our delicious salads, soup, or a sandwich along with a great selection of fresh coffees and tea. And when you're done you don't need to go anywhere else for the most luxurious desserts in Salem.
Where you can have your cake and eat here too!
BREAKFAST
*We are not serving our Breakfast items till further notice
---
Quiche Special of the Day
Presented with fruit. 9.75
Hot Oatmeal
Served with dried cranberries, brown sugar, and cream 5.95
Breakfast Parfait
Delicious layers of granola and strawberry yogurt 5.95
Breakfast Platter
A plate of one scrambled egg. 3 strips of bacon, and your choice of toast 8.50
Add fresh fruit 11.45
Fruit Plate
Plate of seasonal fruit
Side 2.95 Small 4.95 Large 5.95
SIDES
Bacon (3 slices) 4.25 (4 slices) 5.25
Toast
Two pieces of wheat or sourdough served with butter and jam 2.50
Scrambled eggs on toast 3.50
Avocado Toast 4.45
Pastries (we offer a variety of pastries to choose from including Cinnamon Rolls, Pecan Sticky Buns, and Scones. Prices vary.)
Enjoy an espresso beverage with your meal or order one to go. Featuring illy coffee!
LUNCH & DINNER
APPETIZERS
To-Go Lunches are available for individuals or for company lunches. Call (503)585-7070 to place your order.
TURKEY SALAD SPREAD
Our homemade turkey salad served with fresh seasonal fruit and crackers 8.95
SALADS
---
CLASSIC CHICKEN CAESAR SALAD
A classic favorite with crisp romaine lettuce, chicken breast, shredded Parmesan, and homemade croutons tossed with creamy Caesar dressing 9.95
Available in a tortilla wrap (without croutons), served with Kettle Chips 10.45
FAMOUS MEIER & FRANK COBB SALAD
Fresh romaine topped with avocado, tomatoes, black olives, crumbled bleu cheese, bacon, chicken breast and sliced hard cooked egg. Served with your choice of dressing and warm flat bread 11.25
KEARNEY STREET SALAD
Mixed greens, roasted hazelnuts, dried cranberries, red onion, and crumbled bleu cheese, tossed in our house-made raspberry vinaigrette. Garnished with shredded Gouda cheese and warm flat bread 10.25 (Add Chicken 2.25)
CURRY CHICKEN SALAD
Chopped chicken breast, dried cranberries, green onion, celery, and toasted almonds tossed with Curry dressing. Presented with fresh seasonal fruit and crackers 10.50
Enjoy on a croissant (with leaf lettuce) and a side of fruit 9.95
SPINACH SALAD
Fresh spinach tossed in our Curry vinaigrette sunflower seeds, bacon, chopped hard cooked egg, topped with shredded Swiss cheese. Served with warm flat bread 9.75 (Add Chicken 2.25 or Avocado 1.25)
MEDITERRANEAN CHOPPED SALAD
Romaine lettuce topped with feta cheese, artichoke hearts, Kalamata olives, tomatoes, and pepperoncini's, served with a Greek vinaigrette, and flat bread. 10.50 (Add Chicken 2.25)
KONDITOREI HOUSE SALAD
Crisp romaine, tomato, cucumber, red onion, sunflower seeds, Parmesan cheese and croutons with your choice of dressing 6.25
Add Chicken (2.25) or Avocado (1.25) to your favorite salad!
*Dressings: Ranch, Bleu Cheese, Thousand Island, Honey Mustard, Greek, Caesar, Curry Vinaigrette, Raspberry Vinaigrette, Oil and Balsamic
SANDWICHES
Served with Oregon's best Kettle Chips. Substitute fresh fruit or side house salad instead for (2.50), or cup of soup for (3.00) Add avocado to any sandwich for (1.25).
---
CLASSIC CLUBHOUSE
Turkey, bacon, ham, lettuce tomato, and Swiss cheese on wheat bread with mayo 10.95
ALBACORE TUNA
Albacore tuna mixed with chopped red onion, celery, pickles, lemon zest, a dash of Tabasco, and mayonnaise. Served with lettuce and tomato on whole wheat bread 8.95
TURKEY SALAD ON CROISSANT
Our homemade salad includes turkey, green onion, celery, and mayonnaise, with leafy romaine on a fresh baked croissant 8.95
CHICKEN BRIE WRAP
Chicken, sliced apples, mixed greens and creamy brie cheese with honey mustard wrapped in a warm tortilla 9.95
TURKEY OR HAM ON WHEAT
Your choice of turkey or ham with provolone, lettuce, tomato, honey mustard, and mayo on wheat bread 8.95
FRENCH DIP
Roast beef, Swiss cheese, layered between a French Roll and and au jus 10.95
HOT HAM & CHEESE
Ham and gooey Swiss cheese with mayo heated on a fresh baked croissant 8.25
BLT
Bacon, lettuce, tomato on sourdough toast with our zesty homemade spread 9.45
(Add Avocado 1.25)
VEGETARIAN
Avocado, sliced cucumber, tomato, lettuce, provolone and cream cheese on wheat bread 7.95
EGG SALAD
Chopped hard-boiled egg, celery, and fresh dill tossed with mayo and a dash of yellow mustard. Served with crisp green leaf lettuce on marbled rye 8.75
CHICKEN PESTO PANINI
Grilled chicken breast, pesto, and gooey provolone 10.50
GRILLED TRIPLE CHEESE PANINI
A three cheese blend of cheddar jack, Gouda and Parmesan with a sun dried tomato cream cheese spread melted to perfection 7.75
GRILLED REUBEN PANINI
Pastrami, sauerkraut, Swiss cheese and Thousand Island with Rye bread 10.50
TUNA MELT PANINI
Our Albacore tuna salad with melted Tillamook Cheddar cheese 9.50
TURKEY BACON RANCH PANINI
Fresh-sliced turkey, crisp bacon and melted Swiss with creamy ranch 10.50
SOUP OF THE DAY
Cup 3.95
Bowl 4.95
Add a warm roll 1.25
Soup Salad Combo Cup- $6.95 Bowl $7.95 add a roll $1.25
QUICHE OF THE DAY
Our scratch-made quiche prepared fresh every morning! Served with fresh seasonal fruit or side house salad 9.75
MEAT LASAGNA
Served with Grilled Rustic Bread 8.50
Add a Side Salad for 2.50
KIDS MENU
Your choice of:
Grilled Cheese
Turkey & Cheddar (with mayo on wheat)
or Peanut Butter & Jelly (on wheat bread)
Served with a side of Kettle Chips or fruit 5.95
KONDITOREI LUNCH SPECIAL
Your choice of a full sandwich:
Hot Ham & Cheese, or
Turkey Salad on Croissant, or
Egg Salad Sandwich, or
Turkey or Ham on wheat, or
Albacore Tuna, or
Vegetarian
Served with a cup of soup and your choice of Cake or Cheesecake 17.95
1/2 SANDWICH SPECIAL
Your choice of a half sandwich:
Albacore Tuna
Turkey Salad on wheat/sourdough
Vegetarian
Turkey or Ham on wheat
Egg Salad Sandwich
Served with a Side House Salad or a cup of your favorite soup 9.25
*Parties of 6 or more are subject to an automatic 18% gratuity